Violinist
Keep your composer dependencies up to date. Automatically and all the time.
Monitor all your open source projects for free. Forever.
The old, boring way
composer update vendor/package
git checkout -b fix/update-package
git commit composer.lock -m "Update vendor/package"
git push origin fix/update-package
Open pull request
Wait for tests to pass
Repeat for all projects with the same dependency
The new, easy way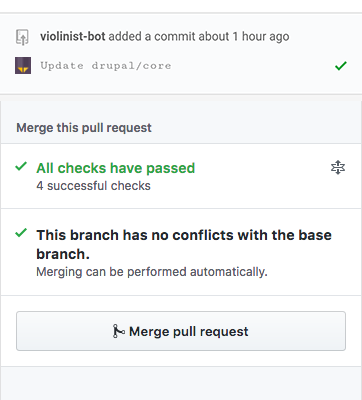 How does it work?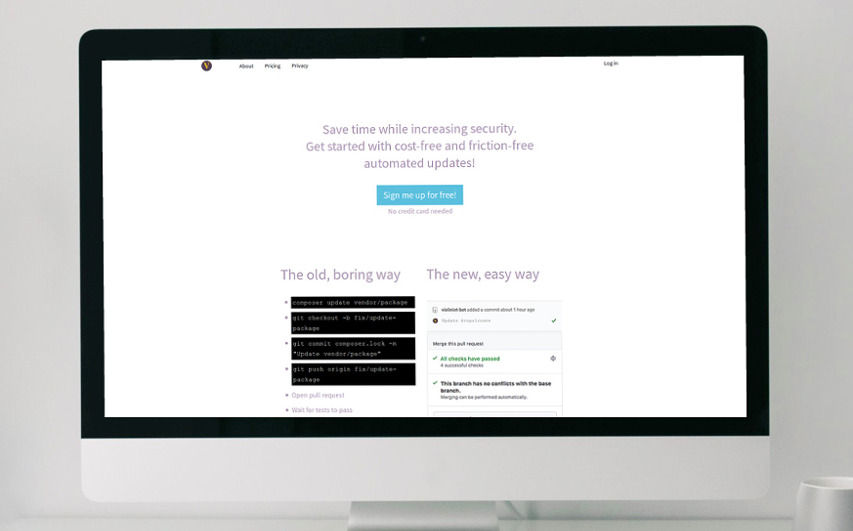 Watch a short animated GIF of Violinist in use.
Super simple pricing
Basic
Free
Unlimited public repos
One private repo
No logs
30 day free trial (no credit card required)
Premium
$5 / month
Unlimited public repos
Up to 5 private repos
Detailed logs for updates
Cancel any time
Enterprise
-
Unlimited public repos
Unlimited private repos
Logs and notifications
Be in touch!
FAQ
Can you quickly go though the technical details?
On Violinist you create the projects you want to manage. Then Violinist will periodically check your project for new dependencies. If new dependencies are found, a pull request will be opened on your version control platform (currently github only). This is especially useful if you have decent test coverage (so that you know the update does not break anything) and continuous deployment, so you can deploy updates with the click of a button.
Can you give an example?
Violinist itself uses Violinist for updates. Since this is a Drupal project, every time a new release of Drupal core comes along it will generate a pull request. And if the tests pass, it can be merged and the new version of Drupal will be deployed automatically to the production server.
Why did you build this?
As a big fan of continuous integration and deployment, this was the missing piece in the automation process.
How much does it cost?
Violinist is completely free to use for open source projects, and up to one private project. If you want more private projects you have the option to pay for this.
Can I use this for PHP libraries?
Sure you can! Generally for libraries, one does not use a lockfile, but you can still monitor and update your dependencies when a for example a new minor version comes along!
Do you support bitbucket/gitlab/other providers?
Not at the moment, but this is on the roadmap.